Brand your business with a Step and Repeat vinyl banner. These sturdy vinyl indoor/outdoor banners are a fun way to make a special event even more special.
You can step and repeat your company logo over and over or create a colorful mix of various marketing partners. Set up a photo shoot so people can stand in front together and take a "selfie" to remember the event.
Cement Relationships With Step And Repeat Banners
These are great for business functions, charity groups, family reunions, (use family photos instead of logos, clubs, weddings (step and repeat the names of the groom and bride).
Movie Sports Stars Call Them Red Carpet Banners
Some people call step and repeat banners red carpet banners because Hollywood is famous for having stars pose with fans in front of the banners.
Step and Repeat Banners Are Versatile
These banners are very versatile because you can switch out the banner for a second or third banner and still use the same banner stand. Use them at different events and later display at your store or office.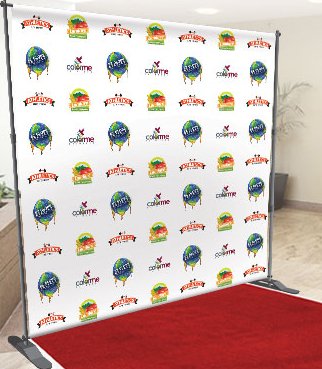 1. Step and Repeat Banners Are Fun
People post their photos from events on their Twitter and Facebook profile pictures. And share them with friends, family and co-workers.
So these photos will be up on the web for months to come, continually promoting your event or business.
2. Partnerships
Step and Repeat banners are a great way to build a business or personal relationship. Tie in three or four businesses or organizations. Or take pictures of your Rotary club in front of your backdrop.
Do you know an ex-Ohio State Buckeye athlete or other local celebrity? Coax him or her in to take some "selfies" with your crew.
3. Economical
Red carpet backdrops are large enough to feature several sponsor logos. So you can split the costs with other companies when buying the Step and Repeat banner.
And next time you can switch out the vinyl banner and save money by not having to purchase a new banner stand.
4. Use Them Everywhere
Where can you use these banners? Conventions, monthly meetings, trade shows, festivals, fairs, church groups.
The banner stands are easy to assemble and disassemble. And they store away conveniently and don't take up much space between events.
Have questions? Call Bruce Binenfeld at Cloud 8 Printing 614-273-0845