Cloud 8 Printing Company and Graphic Design -Printing Columbus OH
Cloud 8 Printing Company offers low cost printing and design on Postcards, Business Cards, Flyers, Brochures Banners, Yard Signs,  Direct Mail,and more. 
Need A Low Cost printing COMPANY?  Need Design work?
Call Cloud 8 low cost printing company for a free quote or consultation.
It is great to get a real person on the phone to discuss your print or design project.
If you prefer click the contact button and tell us about your project. Or simply text us.
Design Services -Cloud 8 Printing Company
We are ready to serve your needs for any project with low cost printing and design services.  And we can come meet with you in Lewis Center, Pickerington, New Albany, Hilliard or wherever you are in the Greater Columbus, Ohio area.                 
We will create a customized Direct Mail plan for your business. Cloud 8 can design, print and mail your project for you. Whether its a tri-fold, EDDM postcard or bulk mailing project, we are ready to do it all for you.
Cloud 8 Printing Company Special: Step and Repeat Banner Offer: $479

  Step and Repeat Banner 8′ x 8′ $479
Includes a Telescopic Backdrop Banner Stand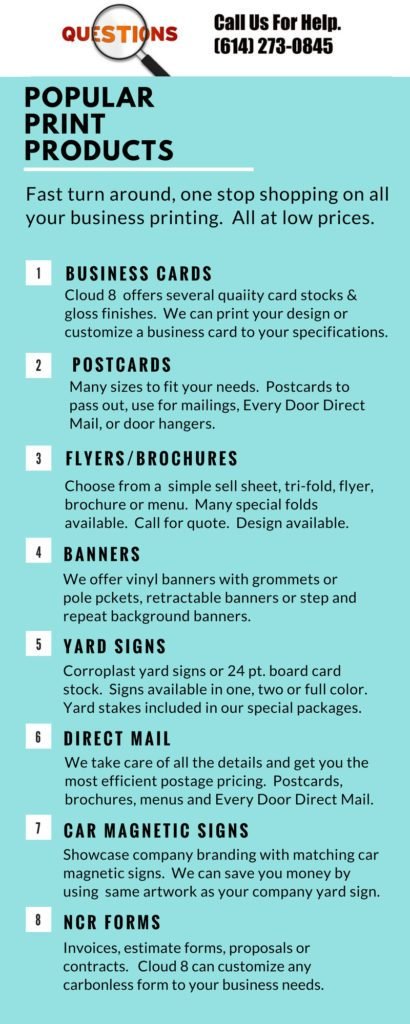 Cloud 8 Printing gives you the best of both worlds; cheap print online prices and personalized service. If you would like assistance with an order or have any questions, give us a call, text or fill out a contact form. A representative  will respond very quickly to your company's print question or request.
Fast Print Turnaround And Low Cost Online Printing Services
Postcards, business cards, brochures, flyers and banners quickly go in to production after your proof approval.  And we often offer free delivery on your projects.  Not only to local customers in Dublin, Westerville, Hilliard, Gahanna, Powell or anywhere in the Greater Columbus, OH area, but we can ship anywhere in the USA.
Package Deals With Design and Printing Services
Save big when you task Cloud 8 with several projects at once.  Not only do you maintain continuity on your brand, but you save time and money when the same designer works on two or more of your projects at once. 
Political Marketing Materials
Launching a political campaign? Choose Cloud 8 for all your political marketing design and printing needs. Yards signs, handouts, door hangers, banners postcard printing and mailings. Political Marketing
Trade Show Printing
Cloud 8 can help prepare you for your next trade show with retractable banners, flyers, handouts, signs, business cards, step and repeat background banners.  We can even ship to you out of town if your trade show is on the road.

Cloud 8 print design -Look great, save money.
Churches and Non Profits
We care about the community and are always ready to go the extra mile for churches and organizations helping to make the world a better place.  Church banners, donation cards,
prayer cards – we offer low cost print and big graphic design discounts on all of these items.
Frequently Asked Questions
Does Cloud 8 offer design services for print projects?
Yes, call for a graphic design quote or click on the Get A Quote button and we tell you what we can do for you and how much it will cost to design your postcard, business card, brochure or other print project.  We'll can even send you a proof first before we go to press.
How long will delivery take?
We can deliver print services order to your home or office, to your client or even to your hotel room at conference anywhere in the United States.  Most jobs go to print within 48 hours after proof approval.  You then usually receive delivery in 1-2 days.  If you are in a hurry, please let us know.  Rush orders are available.
Cloud 8 specializes in fast turnaround of print services.  But we double check everything to avoid the mistakes that come with rush projects.
We have been delivering to Columbus businesses in Dublin, Westerville, Hilliard, Upper Arlington, Gahanna, Powell and Bexley for over 15 years.
What about if I am unhappy with my order?
Cloud 8 Printing strives to provide top quality printing products and customer experiences. If for any reason you are dissatisfied with your order, please promptly contact us to discuss it. All defects / order issues must be reported to Cloud 8 Printing within 5 days of receiving your order.
We only offer customers refunds as a house credit, reprints on defective print orders, or mutually agreed-upon partial house credit.
Determination of the order's defects are at the discretion of our management. Customers will be requested to submit digital photos to document any shortcomings or defects. The customer may be required to ship defective products back to Cloud 8 at their own expense and in an agreed upon reasonable time frame. In some cases, Cloud 8 Printing may reimburse customer for shipping if a defect is determined to exist.
Charges for expedited orders, such as rush printing or shipping, are not refundable for defective products unless UPS or Fedex delivers a defective product or fails to deliver an order.
Turnaround time and shipping options for reprints of orders are at the Cloud 8's discretion.
Direct mail services have many variables and are not always subject to the above stated standard return policies and will be evaluated on a case-by-case basis for potential refunds or reprints.
Turnaround Time
We work hard to turn print services jobs around in the estimated times offered. But your project may require more time due to unforeseeable or occasionally uncontrollable circumstances. We will not credit customers if a job runs past the estimated turnaround date. TURNAROUND TIMES ARE AN ESTIMATE, NOT A GUARANTEE!
All of our policies are subject to change without prior notification.
Google Reviews