Political Marketing Materials that hold voter's attention and wins campaigns.
A plan for political marketing material
You need a plan for political marketing materials. If you don't understand marketing find some who does. An experienced printer can give you great campaign marketing advice and they usually offer it free when you are calling for quotes on political campaign materials .
Political marketing materials and strategy discussion points
Establish a marketing strategy and goals.
Create a plan of action with a timetable.
Set your print campaign marketing materials budget.
9 Great Political Marketing Materials To Promote A Winning Campaign.
Add Posts Feature political campaign materials on Google
GMB Google My Business. This Google service is free!
Press Flesh Meet constituency and hand out business cards or flyers
Social Do what you can to go viral. Get graphics from artist.
Email Stay in touch & find early supporters who want to help.
Gatherings Print Backdrop banners & postcards flyers for rallies.
Mailings Targeted postcard mailings are incredibly strong tools.
Yard Signs Promote on your website. Supporters often pay $5 fee,
Step & Repeat Giant 8′ x 8′ banner makes a great red carpet backdrop. .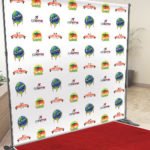 Killer Plan For Your Political Print Marketing Campaign
All politics is local and best local politics is still print.  Print political advertising is essential for success and a proven difference maker.  Don't think that you can social media your way to getting elected.  Political yard signs is where it all begins, but don't underestimate political print stickers, political print banners , postcards and more.
Vinyl banners are available for hanging with grommets or pole pockets. Banners with aluminum retractable banner stands printed on 10 mil indoor premium vinyl are a good choice to enhance your campaign marketing materials. The retractable stands may be conveniently packed in a small bag, and set up in a few seconds.
Ultimate Desired Result: Political Marketing Print Yard Signs Popping Up In Yards Across The Neighborhood – This Means Voters Are Showing Their Support Of You
On Election Day, you better have name recognition.  Gain name recognition with street after street of three consecutive houses with your name on a political print yard sign.   You can quickly go from a nobody to a somebody.   To get in their heart you have to first get in their face.
The 18" x 24" yard sign is the standard yard sign size. Be it corrugated plastic or bag signs yard signs have been the staple of political campaigns for decades and they work better than ever.  They stand up to months of rough weather and concisely announce your campaign brand to all who walk or drive by.  And they offer you two sides of every issue; the front side and the back.  
Key Point: Plan ahead otherwise you will pay rush charges for art, printing and delivery.
Tell people on your website where supporters can get their yard sign.  Ask for their permission and then offer to stop by and stake it in their yard.  People don't usually mind, even if there is even a token fee for them. People who live on a high traffic street are an especially sweet choice.
Add Some Stickum To Your Political Print Campaign With Stickers or Labels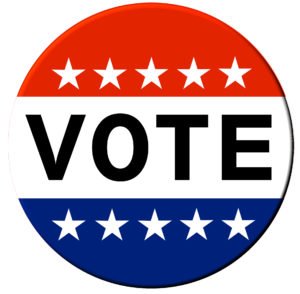 With various sizes and shapes, a sticker gives you amazing versatility in getting your message out.  Kids can't vote, but they will leave a trail of stickers for their parents to see. 
And a simple campaign sticker should be on all your campaign aid's labels as they press the flesh meeting with your constituents.
Drive Your Political Print Message On Bumper Stickers
You can't turn away from bumper stickers.  A short and sweet message can be very effective on car bumper sticker.  You can even use it to promote your website. But keep the message short and concise.
Use your campaign colors, your logo and your slogan on your new moving billboard.
Campaign Bumper Stickers- You will be surprised where these will turn up. Not just on cars, but walls, trucks, vans, boats, R.V. s, motorcycles even bicycles.
Everyone Loves And Needs Notepads, Print Some Up With Your Campaign Slogan
There is nothing better in an political advertising campaign then when you can have your artwork do double duty.  Your name and slogan can easily do that on printed notepads. 
Save money by keeping it to one color.  Even small note pads are nice and they don't have to be that many pages each.  On a budget?  Keep it to 25 pages per pad.
Print Your Name or Mug On A Coffee Cup
Coffee Mugs are one of the most popular specialty advertising items.  And once again here your art work is doing double or triple duty.  Don't forget to include your website.  In fact, showcase your coffee mugs on your website.
 Postcard Mailers Can be Targeted By Zip Code Or Postal Route
When you coordinate consistently with same graphic designer and printer you can save big by having the artwork for one project do double duty (with a few tweeks) with another. An example would be using the artwork from a flyer add a small tweek and make it work on you postcard mailer.
Distribute Collateral Advertising Materials
Business cards – Are a great campaign handouts. List your name, campaign slogan and a place online they can check their voter registration
Flyers featuring your signature photo alone or with your family. A reminder of date of the Election. Add some bio background and list the issues you support to your campaign handouts.
Door Hangers Stretch The Budget Of A Print Political Campaign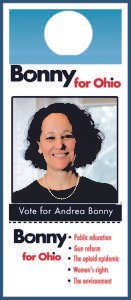 Political Marketing Materials Cloud 8 Printing.com
Colorful door hangers are a great way to save on postage by having your canvassers leave these informational political campaign handouts behind.  You can even have a perforation added that offers a return postcard for mailing or a party election day voting lineup.
Door hanger give a more personal touch and offer people for are at the door an opportunity to ask a question or make a point. Nothing better for a political campaign than pressing the flesh.