Yard Signs printed great prices on 1, 2 or full color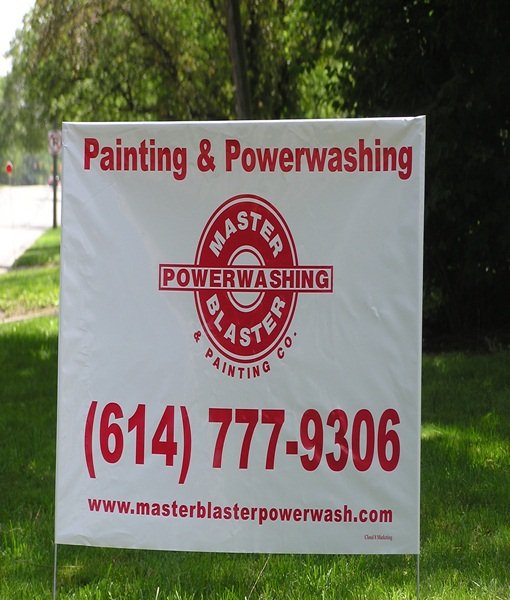 Yard Sign Standard size is 2 feet x 1 foot 6 inches (24″ x 18″)
These are premium quality full-color Corrugated plastic Yard signs and Lawn cards. Looking to economize your budget?  Choose 1 or 2 color yard signs with stakes over full color and you can save big.  Call us for a special price with or without wire stakes. We can design a Yard Sign to fit your needs.
Request A Quote
Do yard signs work? Are you kidding?
Take a look around Columbus or anywhere in Ohio. Chances are you will see yard signs all over the place. When you stick a sign on a client's front lawn that implies their endorsement to their neighbors. That means one $6.00 Yard sign might just bring you a new order or even a new client!
Your clients are paying you to complete a job, but at the same time your clients are offering you an opportunity to promote your business with a lawn sign on their property to their neighbors. Take it!  Put up a color Corrugated plastic Yard Sign or one color bag Lawn Sign with your company logo, phone number and web site, offer a free estimate and a discount to your client's neighbors. Sometimes the only thing holding a customer back from beginning a new home improvement project is they don't know who to trust with their project. A lawn sign or yard sign on their neighbor's lawn gives you instant credibility.  Take the referral.
* * * * * Awesome Rating
"I received yard signs yesterday afternoon. They look great! Thanks, Bruce!
Sean B. Hilliard, OH"
* * * * * HR Rating
"Thanks again, Bruce! The yard signs we put up look great in Worthington..
Stephen G. Upper Arlington, OH"
Affordable Signs!
Lawn signs are cheap especially one or two color signs. No postage, no announcer or actors to pay. Full Color and Two sided Yard signs are not much more. Call Cloud 8 Printing and make your phone ring!
Go with a two sided sign. Full color Lawn Signs are even better and can show your logo the way you meant it to be seen. This may only cost you an extra dollar for a week's advertising exposure. Where can you find better value for one dollar?
Yard Signs – How To Save And Get The Best Deal
Buy your signs 100 at a time. The saving's are enormous. Prices drop hard at a 100 signs. We're talking advertising for only a few bucks per day. And often the lawn signs are pristine after a few days and can be reused at another location.
You'll be hard pressed to find a better way to stretch your advertising budget than a simple Yard Sign, Lawn sign.
Your artwork can do double duty when you have a car magnet printed at the same size and specs as your yard sign.
Standard Size
The most common Yard Sign size is 18″ x 24″. That makes up 95% of the yard signs printed in Columbus, OH
Custom Sizes
Available in custom sizes ranging from 12″x 12″ up to 48″ high x 46″ wide.
4mm White Corrugated Plastic
Request Quote