Cloud 8 Printing Company and Graphic Design -Printing Columbus OH
Cloud 8 Printing Company offers low cost printing and design on Postcards, Business Cards, Flyers, Brochures Banners, Yard Signs,  Direct Mail,and more. 
Need A Low Cost printing COMPANY?  Need Design work?

Call Cloud 8 low cost printing company for a free quote or consultation.
It is great to get a real person on the phone to discuss your print or design project.

If you prefer click the contact button and tell us about your project. Or simply text us.
How Much Does It Cost To print 500 or 1,000 postcards?  Is shipping or delivery Extra??
Call Cloud 8 printing company :
500 4″ x 6″ postcards are $116.  Double your order to a 1,000 postcards for $16 dollars more.  Either way we will include free shipping.
500 5″ x 7″ postcards are $190.  Double your order to a 1,000 postcards for $30 dollars more. Either way we will include free shipping.
*Prices are subject to change.
Design Services -Cloud 8 Printing Company
We are ready to serve your needs for any project with low cost printing and design services.  And we can come meet with you in Lewis Center, Pickerington, New Albany, Hilliard or wherever you are in the Greater Columbus, Ohio area.                 
We will create a customized Direct Mail plan for your business. Cloud 8 can design, print and mail your project for you. Whether its a tri-fold, EDDM postcard or bulk mailing project, we are ready to do it all for you.
Cloud 8 Printing Company Special: Step and Repeat Banner Offer: $539

  Step and Repeat Banner 8′ x 8′ $539
Includes a Telescopic Backdrop Banner Stand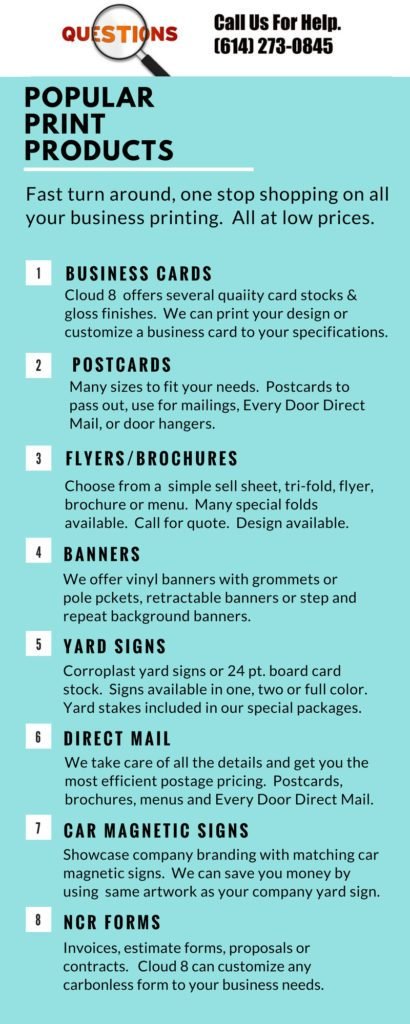 Cloud 8 Printing gives you the best of both worlds; cheap print online prices and personalized service. If you would like assistance with an order or have any questions, give us a call, text or fill out a contact form. A representative  will respond very quickly to your company's print question or request.
Fast Print Turnaround And Low Cost Online Printing Services
Postcards, business cards, brochures, flyers and banners quickly go in to production after your proof approval.  And we often offer free delivery on your projects.  Not only to local customers in Dublin, Westerville, Hilliard, Gahanna, Powell or anywhere in the Greater Columbus, OH area, but we can ship anywhere in the USA.
Package Deals With Design and Printing Services
Save big when you task Cloud 8 with several projects at once.  Not only do you maintain continuity on your brand, but you save time and money when the same designer works on two or more of your projects at once. 
Political Marketing Materials
Launching a political campaign? Choose Cloud 8 for all your political marketing design and printing needs. Yards signs, handouts, door hangers, banners postcard printing and mailings. Political Marketing
Trade Show Printing
Cloud 8 can help prepare you for your next trade show with retractable banners, flyers, handouts, signs, business cards, step and repeat background banners.  We can even ship to you out of town if your trade show is on the road.

Cloud 8 print design -Look great, save money.
Churches and Non Profits
We care about the community and are always ready to go the extra mile for churches and organizations helping to make the world a better place.  Church banners, donation cards,
prayer cards – we offer low cost print and big graphic design discounts on all of these items.
Frequently Asked Questions