Business Card Design Tips.  Download our Free info graphic.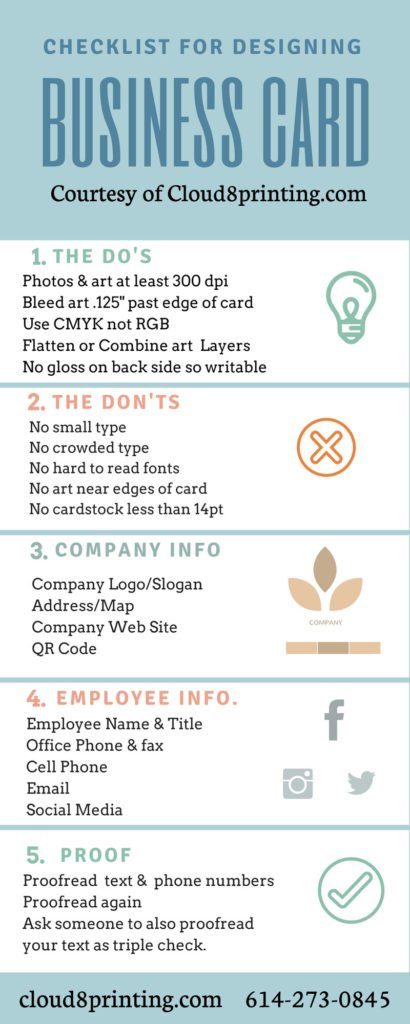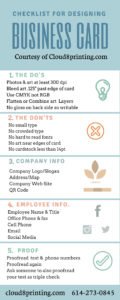 Business card design tips – an informative guide.  Our free design checklist and website will offer you answers to questions like: What should a good business card look like? How do you make a business card? How do I design a card? What information should I include on my card? What kind of cardstock should I use for business cards? How much does it cost to make a business card? Our business card design tips suggest the information to consider including on your card.  Also in the checklist are some do's and don'ts to consider to ensure you have the best design possible. Download the attached infographic for your own checklist.
A business card design tips checklist guide
 1. The Do's of business card design
Photos and art should be at least 300 dpi for clear resolution Bleed your artwork .125″ past edge of card for clean printer's cut Use CMYK color not RGB color (RGB is mainly for the web) Flatten or Combine Layers of artwork when using Photoshop or illustrator No heavy gloss on second side so you may write notes, quotes or phone numbers
2. The Don'ts of business card design
No hard to read small type No crowded type No hard to read or confusing fonts No artwork within .08″ of the inside edge of card to prevent content getting cut off. No cardstock less than 14pt.  Flimsy cards leave a bad impression.
3. Company Information You May Want to Include
Company Logo.  Consider your logo when choosing other colors included on card. Slogan.  Only include this if you regularly feature it. Address / Map (keep map simple) Company Web Site QR Code  Make sure this is high resolution and clear.
5. Proof your Design
Proofread your text and phone numbers Proofread again Ask someone to also proofread your text as a triple check
Want more information on why business cards are important?  Read Susan Ward's nice article on the Balance website of
1. She points out that even in the digital age it is often faster and easier to simply hand someone your relevant information. 2) Some people don't use their phones as much as others. 3) Business cards have no downtime. They're always accessible.  No dead spots or Internet outages. 4) Business cards provide instant legitimacy to a small business and facilitate networking.
For the complete article go to https://www.thebalance.com/why-use-business-cards-2947920
And for help on how to choose or match fonts go to our retweet on tips for fonts from December 28, 2017 on twitter  https://twitter.com/cloud8printing.
Need help or want prices with your business card?  Check out our website Cloud8printing.com today or call us at 614-273-045.  We will be happy to answer any questions.  Cloud 8 has great prices and fast turnaround on design and printing business cards.